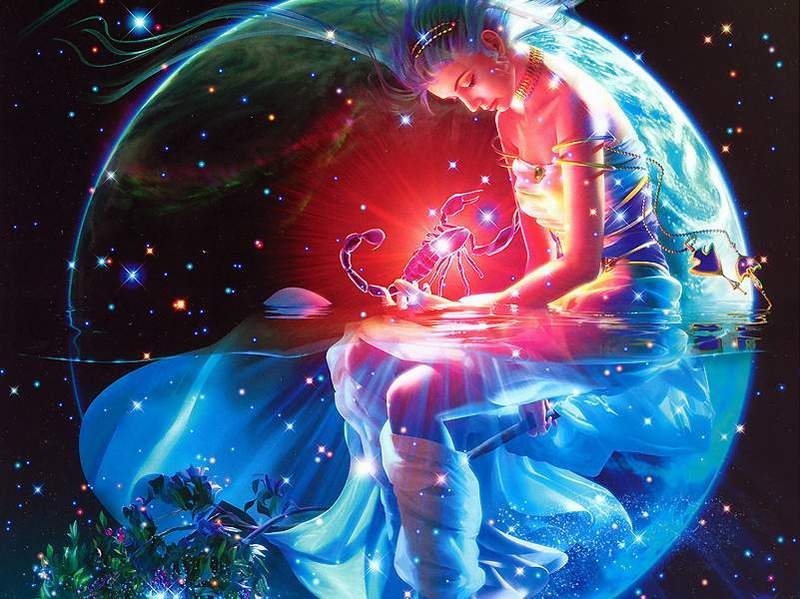 Welcome to the Full Moon in Scorpio! This is occurring over the 10th & 11th May and in the powerful and watery sign of Scorpio, we are all being urged to go deep inside and transform again. Scorpio energy can lead us to the highest and also the lowest places deep in our psyche. It's a real time of 'soul searching.' It represents a turning point in which to embrace and accept recent changes. It may feel a little uneasy leading up to the full moon so just try to stay grounded and tune into your heart or intuition.
The general planetary playground has Mercury (communications) holding hands with Uranus (chaos, revolutionary) so this may rattle the nervous system a little on top of this big culminating energy. On the positive Mercury has gone direct and no longer retrograde so we should feel things moving forward again with a little more ease.
There are a few other planets still retrograde – Jupiter in Libra ( big focus on relationships) Saturn in Sagittarius ( Structure in belief systems ) Pluto in Capricorn ( transforming and rebuilding ). So in all these areas we have an extra focus with the retrograde motion going on. These big boys of the zodiac are making their presence felt so it's mostly about the ongoing issues we've been talking about such as restructuring in business and internally, our changing relationships and finding our inner truth. Jupiter makes a nice harmonious trine to Mars in Gemini so that is a welcome change providing a window of opportunity to have healthier communication within our relationships. Saturn in Sagittarius is still hovering around the Galactic Centre which is a powerful point in the zodiac relating to a point in our galaxy – The Milky Way.  A huge gravitational pivoting point. So with Saturn here one gets a sense that we may be feeling things are a 'little out of control' as Saturn normally is the steady influence, the structures and boundaries that keep law and order and our worlds in tact. Now we may have this vague sense of not knowing where we are heading as we feel this 'vortex' of energy pulling us toward an unknown destiny. Saturn in Sagittarius is so hell bent on pushing the buttons on religion, spirituality and politics as this timeless task master and philosophical Sage work together to push us forward and speaks of the importance of morality and revealing the truth. Sag can be pretty dogmatic and outspoken so at times more talk than action. If you are any of the mutable signs such as Sagittarius, Virgo, Gemini or Virgo, this cycle will affect you quite strongly. Major structures in your personal and professional world take on a whole mature, new shape now. Usually lovers of change this may have the influence of Saturn which likes structure, standing their ground and making more permanent commitments. 
The Pluto Retrograde in Capricorn forces us to make an internal investigation of sorts. He is the big transformer (ruler of Scorpio). However, while in Capricorn he's been busy for a few years breaking down institutions that no longer serve us or have relevance for us moving forward. This is both on a global and a personal level so many lives have experienced huge changes. We're forced to look at our 'shadow sides' and it's difficult but really necessary for us to evolve. We'll be getting honest with ourselves about how much we're motivated by needs for money, power and authority etc. We can do lots of purging. This phase of retrograde for Pluto goes from 20/4/17 – 28/9/17 going direct at 16 degrees Capricorn. With Pluto transits such as this one it feels like the 'elephant in the room' can no longer be ignored. If you're open to surrender to Pluto's challenges. You can harness this transformative power for your highest good. There is immense potential for personal growth. 
Nodal Axis moves into Leo / Aquarius
The North Node and South Node points are directly opposite each other.They are not planetary bodies; rather, they are points that take into account the relationship between the Sun, Moon, and Earth at the time of our birth. Astrologically it is about our karmic lessons or 'spiritual quest.' So if you look at the Nth Node you will be looking to incorporate the qualities of that sign into your direction or path in this life, and perhaps not so much leaving behind the qualities of the sign on the Sth Node, but bringing what you have learnt forth and integrating the best of both worlds. When we see a change in the signs of the Nth & Sth Nodes we will feel a definite shift in the world around us. This is particularly so if we have either the Sun, Moon, Ascendant or major placements in those signs. So Leo / Aquarius Sun's, Moon's, Ascendants are really going to feel this change the most. This is a change from the Virgo / Pisces polarity we've had for the last 18 months which was more about purification, diet and really getting down to the 'nitty gritty' of what best serves us. Our health was a major highlight and hopefully we have all come through this cycle better for it or at least with the tools to make sound decisions for our wellbeing. With Leo / Aquarius in the limelight now we are asked to 'shine' wherever we are best to do this. It may be time to now take our part and feel good about who we are and how we display this to the world around us. The Nth Node is in a fire sign and ruled by the Sun, so it is really a big warm energy helping us to open our hearts and to find our passions and embrace them. It can give an extra focus on children and or the child in ourselves. There should be that new feeling of allowing ourselves to have fun and still work hard (as Virgo taught us) so it is a time for new ways of expressing ourselves and walking a different road but still towards our destiny and for our highest good. Remember to have fun along the way and enjoy the applause when you kick some goals! 
Best wishes for this Full Moon in Scorpio and all that goes with it! 🙂