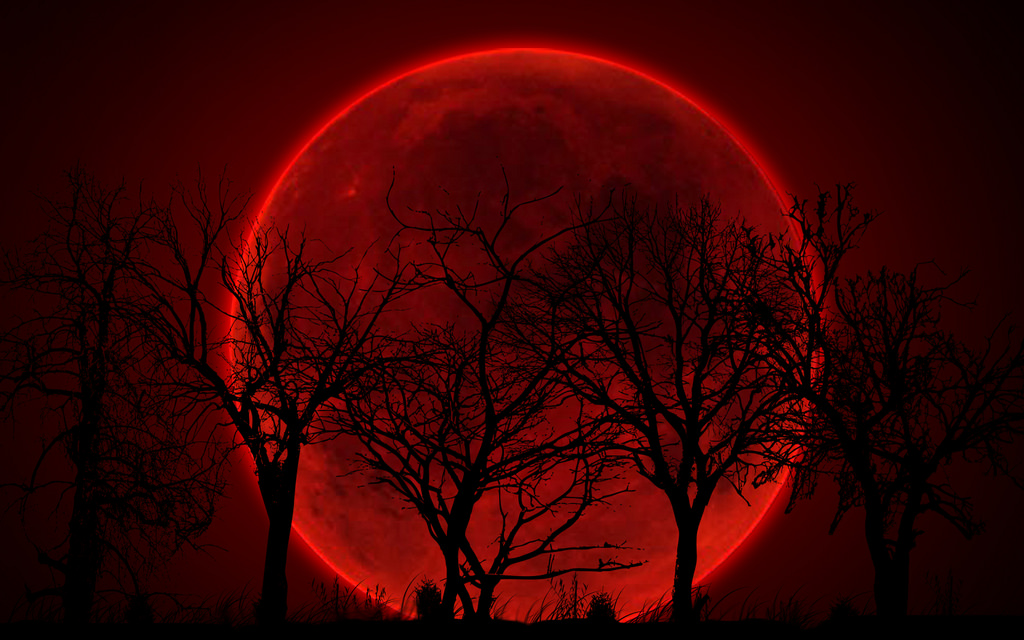 Not only do we have a big bold and beautiful Super Full Moon in lovely Libra, but we are experiencing a Lunar Eclipse. What this means is that the Sun in Aries is opposite the Moon in Libra exact on Saturday the 4th April, and when they are both at 14 degrees 24 minutes of each sign, the Moon will be eclipsed momentarily. What makes this an extra potent one is that the Moon's North Node will be conjunct (very close) to the Moon – in Libra, and the Sun will be conjunct the South Node of the Moon. In astrology, these two points are very significant in that they signal changes that need to be made from our past (Sth Node) and to move towards our soul's path (Nth Node). This is amplified during the illumination of a Full Moon.
We look to the sign the nodes are in and also the Sun & Moon are occupying the same, so for this one it is between the independent and warrior like energy of Aries (fire) and the sign of cooperation, love, peace and harmony – Libra (air). We are being asked to bring up the unconscious part of our selves in our relationships! That is not just romantic relationships. Our own shadow side will be projected. So with Sun in Aries it's our own individual power Vs how we hold ourselves in relationship to other people. Our self esteem and what patterns have already been created in prior relationships – good, bad or ugly!
Explore these dynamics – what have we brought into our lives from childhood to now? Bring it out of the shadows into the light. See the theme of how the eclipses affect us? How do we show up for the intimacy of our relationships? We have the opportunity to change these patterns now especially with this Lunar Eclipse. With Uranus in Aries, it also gives us an unconventional way of doing this. We also have lots of passion and power with all the fire in the sky for us such as Jupiter in Leo (goes direct after the 8/4) and Saturn in Sagittarius, Sun in Aries and Mercury in Aries. Coupled with the compatibility of the Nodes in Aries and Libra…..well, it's clear that we are being urged to move forward, make the positive changes the cosmos is asking of us. This is a Super Moon so take the opportunity to bring up those needs and explore what patterns have not been working for you and make the unconscious – conscious. The Moon rules the unconscious and the Sun is the awoken part of our psyche. When these phases come about, it is a very special opportunity for change.
The Sun in Aries on the South Node point brings in past relationships so you might find yourself bumping heads with people who come into your life to bring valuable lessons. You may know them or they may be from previous lives. So by looking towards the North Node we are connecting to bring peace, beauty, love, harmony or unfinished business. Now is the time to tap in and move forward as the North Node will show us a better way of communicating.
Mars and Venus (rulers of Aries & Libra) are now both in grounded and slower moving Taurus, so that is also good news. This speaks of grounding the impulses and manifesting them. Also Mercury is trine to Saturn – let go of limiting core beliefs. Meeting it half way by bringing our ideas into reality. Not only 'ideas' but by using our 'heart' energy and connecting with others to amplify things. Letting go of the 'Us & Them' mentality is important. Libra is asking us to unite and be more community minded. Libra Full Moon is all about being a social being and  letting go of the tendency to be selfish.
Enjoy this spectacular Full Moon and Lunar Eclipse and also have a Happy Easter if it is your celebration!
Love & light!
Anne. 🙂